RU Veterinary Science Club Places FIRST in APVMA Symposium's "Pre-Vet Olympics"
By Michael Yee '17, Veterinary Science Club President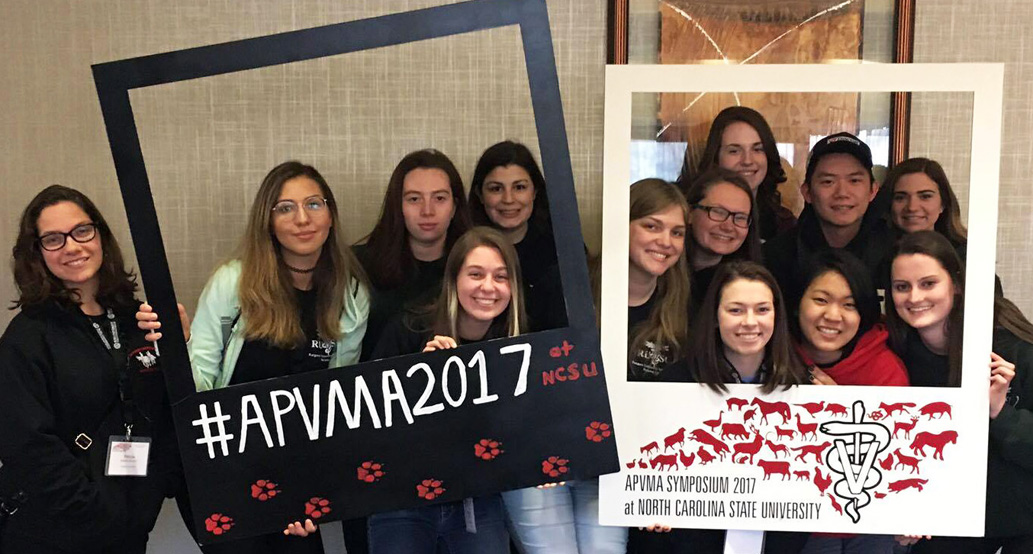 On the weekend of March 3rd-5th, the Rutgers University Veterinary Science Club took 13 students to attend the national American Pre-Veterinary Medical Association (APVMA) symposium at North Carolina State University.
Club members competed in a "Pre-Vet Olympics" that tested a variety of veterinary-related skills. Rutgers placed first – out of 52 schools!
The students also toured the vet school campus and attended lectures and labs taught by veterinary school faculty. Some of the more popular labs included palpation and necropsy labs where students gained hands-on experience under supervision (like they would in vet school).
To view more photos from the symposium, please check out our department's Facebook page.
Congratulations to all 27 Rutgers undergrads who competed in NESA 2017!
The following are excerpts from an article written by Dr. Carey Williams for the March 15th issue of NJ Farmer. She and Dr. Barry Jesse, along with PhD student Jennifer Weinert, mentored the Rutgers NESA participants and traveled with them to the University of Rhode Island, where 168 undergraduates from Northeast universities successfully competed on February 25. (Photo credit: Dr. Carey Williams)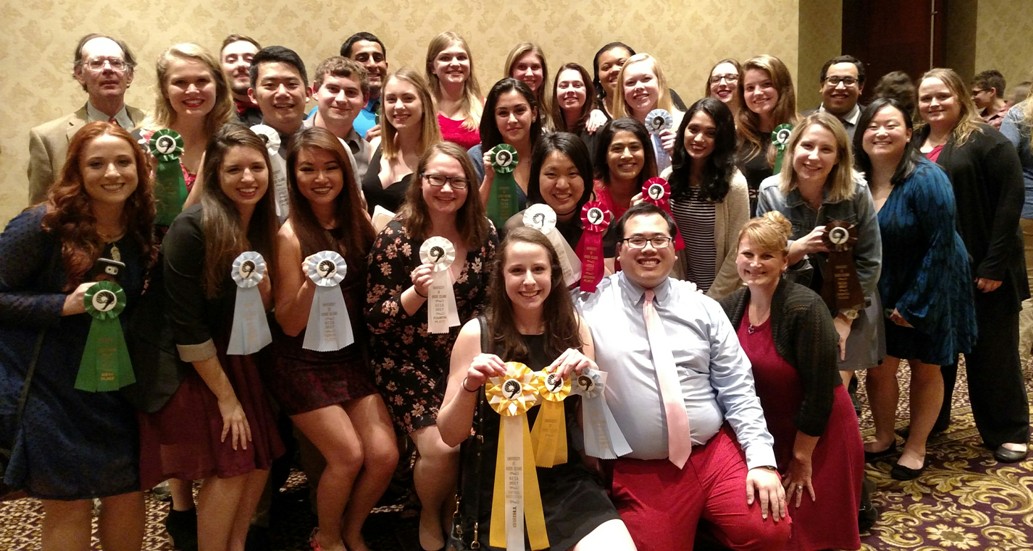 Rutgers Students Compete in Regional Animal Science Competition

Every year Rutgers' students interested in Animal Science participate in a competition held in the Northeast region for the American Society of Animal Science and American Dairy Science Association, known as the NESA (Northeast Student Affiliate) Competition.  This year NESA was hosted by the University of Rhode Island on Feb. 25th. Seven regional schools participated (Rutgers, Penn State, University of Connecticut, University of New Hampshire, University of Massachusetts–Amherst, University of Delaware, and Delaware Valley University) with a total of 42 teams of four or five students. Rutgers had 6 teams with 4-5 students per team for a total of 27 students participating in the three phases of the competition.
The morning of the competition started with a Livestock Judging phase at the university farm, where students judged 6 different livestock classes: Dairy, Beef, Horses, Sheep, Poultry, and a surprise class (this year was oysters, put together by the Department of Fisheries, Animal and Veterinary Sciences Chair). The surprise class can be anything agriculturally related. In past years the surprise class ranged from Golden Retriever dogs, dairy goats, tobacco leaves, miniature donkeys, cuts of meat, local honey, hazelnuts, and slides of live goat sperm!
After the judging phase, students returned to the URI campus to compete in a Quiz Bowl phase with animal science-related questions.  Each team of 4 went head to head with another team from a different university in a bracket system until only 2 teams remained for the final round of questioning. Quiz bowl questions deal with all aspects of animal agriculture from animal physiology, anatomy, husbandry, regulations, breeds, diseases, etc. Anything is fair game.
At the same time as the quiz bowl competition, Paper Presentations were taking place in 4 different rooms set up for the third phase of the competition.  One student from each team prepared an 8-minute PowerPoint presentation to review an animal science research paper or topic of their choice.  The top 6 presenters presented a second time for the entire audience and a new set of judges for a chance to place 1st through 6th overall.  The scores for these three phases of the competition were combined for a total team score, all individual team scores were combined for an overall University Score.
As a separate portion of the competition, individual students presented original research that they have undertaken in a lab at their university. Rutgers always has a good turnout of research presentations. These scores did not count toward the team totals, but students are awarded a cash prize for first through third place.
This year I would like to congratulate our 2017 Rutgers NESA Team for our 3rd place Overall Institutional finish! Awards were presented the evening of the competition at an awards banquet put on by the host school. Below are results for individual students and teams in the different phases of the competition.
Team Awards (out of a 42 total teams)
TEAM C consisting of Anna Tyryllo, Elena Rizzo, Kirsten Jeansson, Miranda Yang, and Jess Medina placed 10th overall.
TEAM B consisting of Dana Tsuchida, Myke Yee, Caroline Pawlowski, and Jennifer Nary placed 4th in Quiz Bowl making it to the final 4 teams
TEAM D consisting of Carolann Daidone, Ashwal Pondicherry, Kristen Johnson, and Audrey Ghanian placed 6th in Quiz Bowl making it to the final 8 teams
We did not have any teams place in the top 10 in livestock judging but TEAM C did place 11th and TEAM B came in 12th (see above for team member names)
Individual Student Awards
While we did not have any individuals place in the top 10, we did have Maggie Freibergs and Kristina Hahn placed in the top 20 (out of 168 students).
We had very strong Review Paper presenters with 3 in the top 10, with Dana Tsuchida placing 2nd, Grace Seeds 6th, and Anna Tyryllo 8th.
Vipa Patel placed 2nd with her research project titled "The effects of flame-retardants on mouse energy balance."
Elena Rizzo placed 3rd with her research project titled "The effects of continuous vs. rotational grazing on forage soluble carbohydrate content and blood glucose and insulin concentrations in horses."
To view more photos from the event, please check out our department Facebook page.
For more information on the competition, please contact Dr. Carey Williams at carey.williams@rutgers.edu.
Veterinary Foundation Names Sarah Ralston "Educator of the Year"
Professor Sarah Ralston, VMD, PhD, has received the inaugural "Educator of the Year" award from the New Jersey Veterinary Foundation. Details on her award can be found here.
Animal Science Update 2016 - 2017
Archived Department Updates
Animal Science Update 2015-2016
Animal Science Update 2014-2015
Animal Science Update 2013-2014
Animal Science Update 2012-2013