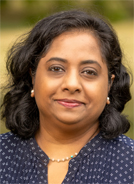 Assistant Teaching Professor
Bartlett Hall 209A
Phone: 848-932-8495
Email: zama@rutgers.edu





Research
A woman's reproductive lifespan depends on the size and health of the initial pool of oocytes and early stage follicles and their maturation into ovulatory follicles. Complex bidirectional communication between the oocyte and its surrounding somatic cells involves local paracrine factors, steroid hormones as well as gonadotropins. Subsequent to ovulation, the ability of the oocyte to be fertilized and implanted for a successful pregnancy depends on uterine function. Critical uterine developmental windows overlap with those of the ovary in late gestation and the first two weeks after birth, and exposure to toxicants during these early developmental stages can cause long-lasting detrimental changes in the health of the female reproductive system.
The developmental origins of health and disease (DOHaD) concept, also known as the Barker hypothesis, states that exposures to nutritional and environmental stressors during early development cause diseases by adulthood in humans as well as other animals. Toxicants such as endocrine-disrupting chemicals (EDCs) are becoming increasing prevalent in the environment presenting a serious threat to public health. EDCs are chemicals that mimic endogenous hormones and disrupt the normal signaling and function of the endocrine system. One can be exposed to EDCs via multiple environmental sources such as pesticide contamination, plastics, pharmaceuticals, and phytoestrogens among others. Early puberty, premature ovarian failure, impaired fertility as well as breast and uterine cancers have been documented in animal studies with estrogen-mimicking EDCs and have been substantiated by a large body of epidemiological evidence from wildlife and humans.
The overall goal of my research program is to identify whether the epigenome (DNA methylation patterns and histone modifications) is altered due to early exposures to EDCs and if such epigenetic reprogramming events result in infertility and/or cancer. Current projects in the lab utilize a combination of techniques in genetics, epigenetics, physiology, reproductive and developmental biology, toxicology, and molecular biology, in rodent models, to fine dissect the specific gene/signaling pathways that are affected.
Experience
| Title | Location | Year |
| --- | --- | --- |
| Assistant Research Professor | Dept. of Animal Sciences, Rutgers University | 2012 |
| Research Associate | Dept. of Animal Sciences, Rutgers University | 2006 |
Education
Degree
Location
Year
Postdoctoral Research Fellow
Center for Reproductive Sciences
University of Kansas Medical Center
2006
Ph.D.
Department of Genetics
University of Georgia
2004
M.S.
University of Hyderabad, India
1997
B.S.
Osmania University, Hyderabad, India
1994
Professional Societies
Society of Toxicology
Endocrine Society
Society for the Study of Reproduction

Other Positions
Editorial board member, Environmental Epigenetics
Reviewer, Journal of Assisted Reproduction and Genetics
Reviewer, Toxicology and Applied Pharmacology
Reviewer, Reproductive Toxicology
Reviewer, Biology of Reproduction
Courses
Representative Publications
Zama AM, Bhurke A, Uzumcu M. 2015. Effects of endocrine-disrupting chemicals on female reproductive health. Open Journal of Biotechnology, in press
Uzumcu M, Zama AM. 2015. Developmental effects of endocrine-disrupting chemicals in the ovary and on female fertility. The Epigenome and Developmental Origins of Health and Disease. Edited by Cheryl Rosenfeld. Elsevier. Book chapter.
Zama AM, Uzumcu M. 2013. Targeted genome-wide methylation and gene expression analyses reveal signaling pathways involved in ovarian dysfunction after developmental EDC exposure in rats. Biology of Reproduction. Feb 28; 88(2):52, 1-13. doi: 10.1095/biolreprod.112.104802. PMID: 23303685 PubMed
Uzumcu M, Zama AM, Oruc E. 2012. Epigenetic mechanisms in the actions of endocrine-disrupting chemicals: gonadal effects and role in female reproduction. Reproduction in Domestic Animals. Aug; 47 Suppl 4:338-47. doi: 10.1111/j.1439-0531.2012.02096.x. Review. PubMed
Gore AC, Walker DM, Zama AM, Armenti AE, Uzumcu M. 2011. Early life exposure to endocrine-disrupting chemicals causes lifelong molecular reprogramming of the hypothalamus and premature reproductive aging. Molecular Endocrinology. Dec; 25(12):2157-68. doi: 10.1210/me.2011-1210. Epub 2011 Oct 20. PubMed
Zama AM, Uzumcu M. 2010. Epigenetic effects of endocrine-disrupting chemicals on female reproduction: an ovarian perspective. Frontiers in Neuroendocrinology. Oct; 31(4):420-39. doi: 10.1016/j.yfrne.2010.06.003. Epub 2010 Jul 4. Review. PubMed
Zama AM, Uzumcu M. 2009. Fetal and neonatal exposure to the endocrine disruptor methoxychlor causes epigenetic alterations in adult ovarian genes. Endocrinology. Oct; 150(10):4681-91. doi: 10.1210/en.2009-0499. Epub 2009 Jul 9. PubMed
Armenti AE, Zama AM, Passantino L, Uzumcu M. 2008. Developmental methoxychlor exposure affects multiple reproductive parameters and ovarian folliculogenesis and gene expression in adult rats. Toxicology and Applied Pharmacology. Dec 1; 233(2):286-96. doi: 10.1016/j.taap.2008.09.010. Epub 2008 Sep 24. PubMed
Marano JE, Sun D, Zama AM, Young W, Uzumcu M. 2008. Orthotopic transplantation of neonatal GFP rat ovary as experimental model to study ovarian development and toxicology. Reproductive Toxicology. Nov-Dec; 26(3-4):191-6. doi: 10.1016/j.reprotox.2008.09.001. Epub 2008 Sep 19. PubMed
Mahakali Zama A, Hudson FP, Bedell MA. 2005. Analysis of hypomorphic KitlSl mutants suggests different requirements for KITL in proliferation and migration of mouse primordial germ cells. Biology of Reproduction. Oct; 73(4): 639-47. Epub 2005 May 25. PMID: 15917341. PubMed (journal cover)
Bedell MA, Mahakali Zama A. 2004. Genetic analysis of Kit ligand functions during mouse spermatogenesis. Journal of Andrology. Mar-Apr; 25(2): 188-99. Review. PMID: 14760005. PubMed
Rajaraman S, Davis WS, Mahakali Zama A, Evans HK, Russell LB, Bedell MA. 2002. An allelic series of mutations in the Kit ligand gene of mice. II. Effects of ethylnitrosourea-induced Kitl point mutations on survival and peripheral blood cells of Kitl (Steel) mice. Genetics. Sep; 162(1): 341-53. PMID: 12242245. PubMed
Rajaraman S, Davis WS, Mahakali Zama A, Evans HK, Russell LB, Bedell MA. 2002. An allelic series of mutations in the Kit ligand gene of mice. I. Identification of point mutations in seven ethylnitrosourea-induced Kitl (Steel) alleles. Genetics. Sep; 162(1): 331-40. PMID: 12242244. PubMed