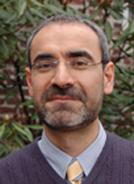 Associate Professor
Bartlett Hall 119
Phone: 848-932-6912
Email: uzumcu@aesop.rutgers.edu





Research
The long-term research goal in the Uzumcu laboratory is to understand the biology of the ovary and testis and the effects of the environment on the ovary and female fertility. The specific research projects are:
Effects of environmental endocrine disruptors exposure on ovary development and female fertility. Our research focuses on (i) the effects of developmental exposure to endocrine disruptors on adult ovarian function and female fertility, (ii) molecular mechanisms of these effects, and (iii) whether these effects are transmitted to the next generation via the female germ cells, through epigenetic mechanisms. We primarily work with the organochlorine pesticide methoxychlor (MXC). Methoxychlor is a weak estrogen, but its major metabolite HPTE and mono-OH MXC are stronger estrogen receptor (ER) agonists. In addition, HPTE and mono-OH MXC act as antagonist for ER and androgen receptor (AR). Most of endocrine disruptors that are widespread in the environment act as estrogenic, anti-estrogenic or anti-androgenic manner. Therefore, MXC, HPTE and mono-OH MXC represent model endocrine disruptors.

Role of local growth factors in the development of the testis. Our research focus is to understand the role of growth factors (e.g., hepatocyte growth factors; HGF) in testis differentiation, development, and function. The master switch for mammalian testis differentiation is sex-determining region of Y chromosome (SRY). The SRY carries out its function most likely through local growth factors. Hepatocyte growth factor along with its receptor, c-met, is one of the growth factors that are expressed in testis in a spatially and temporally regulated manner, suggesting that it plays an important role in the testis development.
We utilize in vivo (e.g. rats and mice) and in vitro models (e.g., cell and organ culture) as well as physiological, cellular, and molecular approaches to improve our understanding in development and function of mammalian gonad and the roles of local growth factors as well as the environment on the gonad.
Experience
Title
Location
Year
Associate Professor
Dept. of Animal Sciences, Rutgers University
2009
Assistant Professor
Dept. of Animal Sciences, Rutgers University
2003
Research Associate
Washington State University
2000
Scientist
King Faisal Specialist Hospital
Research Center, Riyadh, Saudi Arabia
1997
Veterinarian
Ministry of Agriculture, Erzurum, Turkey
1987
Education
| Degree | Location | Year |
| --- | --- | --- |
| Postdoc | Animal Sciences, Washington State University | 1997 |
| Ph.D. | Reproductive Endocrinology, Ohio State University | 1994 |
| M.S. | Reproductive Physiology, Ohio State University | 1990 |
| DVM | Ankara University, Turkey | 1986 |
Professional Societies
Endocrine Society
Society for the Study of Reproduction
Society of Toxicology
Editorial Positions
Editorial Board. Journal of Applied Toxicology, 2014 - present
Editorial Board. Endocrinology, 2013 - present

Courses
Representative Publications
Uzumcu M, Zama AM. Developmental Effects of Endocrine- Disrupting Chemicals in the Ovary and on Female Fertility. In: Rosenfeld, CS (ed). The Epigenome and Developmental Origins of Health and Disease, Elsevier, Academic Press, 2015 pp 143-170. Email uzumcu@aesop.rutgers.edu for a reprint.
Zama AM, Bhurke A, Uzumcu M (2015). Effects of endocrine-disrupting chemicals on female reproductive health. The Open Journal Biotechnology 2015 9 Full Text
Harvey CN, Chen JC, Bagnell CA, Uzumcu M (2014). Methoxychlor and HPTE inhibit cAMP production and expression of estrogen receptors a and ? in the rat granulosa cell in vitro. Reproductive Toxicology, 51:72?78. PMCID: PMC4465425 PubMed
Fagnant HS, Uzumcu M, Buckendahl P, Dunn MG, Shupper P, Shapses SA (2014). Fetal and neonatal exposure to the endocrine disruptor, methoxychlor, reduces lean body mass and bone mineral density and increases cortical porosity. Calcified Tissue International, 95:521?529. PubMed
Cruz G, Foster, W, Paredes, A, Yi, KD, Uzumcu M (2014) Long-term effects of early life exposure to environmental estrogens on ovarian function: role of epigenetics. Journal of Neuroendocrinology, 26:613?624. PMCID: PMC4297924. PubMed
Zama AM, Uzumcu, M (2013). Targeted genome-wide methylation and gene expression analyses reveal signaling pathways involved in ovarian dysfunction after developmental exposure. Biology of Reproduction, 88:1 13. PMCID: PMC3589238; PubMed
Uzumcu, M, Zama, AM and Oruc, E (2012) Epigenetic mechanisms in the actions of endocrine-disrupting chemicals: Gonadal effects and role in female reproduction. Reprod Dom Anim 47 (Suppl. 4): 1 10. PubMed
Gore, AC, Walker, DM, Zama AM, Armenti, AE and Uzumcu, M (2011) Early life exposure to endocrine-disrupting chemicals causes lifelong molecular reprogramming of the hypothalamus and premature reproductive aging. Molecular Endocrinology, 25:2157-2168. Epub Oct 20; (Cover story & Endocrine News article). PubMed
Zama AM and Uzumcu M (2010). Epigenetic effects of endocrine-disrupting chemicals on female reproduction: an ovarian perspective. Frontiers in Neuroendocrinology. 31:420-439. Epub 2010 Jul 4. (Invited Review). PubMed
Zama AM and Uzumcu M (2009) Fetal and neonatal exposure to the endocrine disruptor methoxychlor causes epigenetic alterations in adult ovarian genes. Endocrinology. 150:4681-4691. Epub 2009 Jul 9.PubMed
Harvey CH, Esmail MY, Wang, Q, Brooks, AI, Zachow R, Uzumcu M (2009). Effect of methoxychlor metabolite HPTE on rat ovarian granulosa cell transcriptome in vitro. Toxicological Sciences 110:95-106. Epub 2009 May 4
Armenti AE, Zama AM, Passantino L, Uzumcu M (2008). Developmental methoxychlor exposure affects multiple reproductive parameters and ovarian folliculogenesis and gene expression in adult rats. Toxicology and Applied Pharmacology 233:286-296. Epub 2008 Sep 24.
Marano J, Sun D, Zama AM, Young W, Uzumcu M (2008). Orthotopic transplantation of neonatal GFP rat ovary as experimental model for studying ovarian development and toxicology. Reproductive Toxicology 26:191-196. Epub 2008 Sep 19 (Journal Cover).
Memon MA, Anway MD, Covert TR, Uzumcu M, Skinner MK (2008). Transforming growth factor beta (TGFb1, TGFb2 or TGFb3) null-mutant phenotypes in embryonic gonadal development. (Molecular and Cellular Endocrinology; Aug 26, 2008. [Epub ahead of print]).
Zachow RJ, Uzumcu M (2007). The hepatocyte growth factor system as a regulator of female and male gonadal function. Journal of Endocrinology 195:359-371.
Clement TM, Anway MD, Uzumcu M, MK Skinner (2007) Regulation of the gonadal transcriptome during sex determination and testis morphogenesis: candidate regulatory genes. Reproduction, 134:455-472.

Uzumcu M, Zachow RJ (2007) Developmental Exposure to environmental endocrine disruptors: Consequences within the ovary and on female reproductive function. Reproductive Toxicology, 23:337-352.

Uzumcu M, Kuhn PE, Marano JE, Armenti AE, Passantino L (2006) Neonatal methoxychlor exposure inhibits folliculogenesis and stimulates anti-Mullerian hormone (AMH) production in the rat ovary. Journal of Endocrinology, 191:549-558.

Uzumcu M, Pan Z, Chu Y, Kuhn PE, Zachow R (2006) Immunolocalization of the hepatocyte growth factor (HGF) system in the rat ovary and the anti-apoptotic effect of HGF in rat ovarian granulosa cells in vitro. Reproduction.132:291-299.

Anway MD, Memon MA, Uzumcu M, Skinner MK (2006) Transgenerational effect of the endocrine disruptor vinclozolin on male spermatogenesis. Journal of Andrology, 27:868-879

Zachow R, Uzumcu M (2006) The methoxychlor metabolite, 2,2-bis-(p-hydroxyphenyl)-1,1,1-trichloroethane, inhibits steroidogenesis in rat ovarian granulosa cells in vitro. Reproductive Toxicology, 22:659-665.

Small CL, Shima JE, Uzumcu M, Skinner MK, Griswold MD (2005) Profiling gene expression during the differentiation and development of the murine embryonic gonad. Biology of Reproduction, 72:492-501.

Anway MD, Cupp AS Uzumcu M & Skinner MK (2005) Epigenetic transgenerational actions of endocrine disruptors and male fertility. Science, 308:1466-1469.

Uzumcu M, Suzuki H, Skinner MK (2004) Effect of the anti-androgenic endocrine disruptor vinclozolin on embryonic testis cord formation and postnatal testis development and function. Reproductive Toxicology, 18:765-774.

Cupp AS, Uzumcu M, Suzuki H, Dirks, KA, Phillips, B, Skinner MK (2003) Effect of transient in utero exposure to the endocrine disrupter methoxychlor on embryonic and postnatal testis development. Journal of Andrology, 24:736-745.

Uzumcu M, Dirks AK, Skinner MK (2002) Inhibition of platelet-derived growth factor actions in the embryonic testis influences normal cord development and morphology. Biology of Reproduction, 66:745-753.

Uzumcu M, Westfall S, Dirks, KA, Skinner MK (2002) Embryonic testis cord formation and mesonephric cell migration requires the phosphotidylinositol 3-kinase signaling pathway. Biology of Reproduction, 67:1927-1935.

Uzumcu M, Al Homsi MF, Ball DK, Coskun S, Jaroudi K, Hollanders JMG and Brigstock DR (2000) Immunohistochemical localization of connective tissue growth factor in human endometrium and decidua Molecular Human Reproduction, 6:1093-1098.

Uzumcu M, Braileanu GT, Carnahan KG, Ludwig TE, Mirando MA (1998) Oxytocin-stimulated phosphoinositide hydrolysis and prostaglandin F2a secretion by luminal epithelial, glandular epithelial and stromal cells from pig endometrium. I. Response of cyclic pigs from day 16 post-estrus. Biology of Reproduction, 59: 1259-1265.