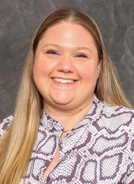 Assistant Professor
Foran Hall 328
Phone: 848-932-6377
Email: elizabeth.snyder@rutgers.edu





Research
Dr. Snyder uses cutting-edge genetic models combined with computational and molecular technologies (e.g., CRISPR/Cas mediated genome editing and RNA sequencing) to study the influence of RNA binding proteins on the germ cell RNA pool and its impact on male fertility. Information gained from her studies has produced novel insights into mechanisms governing RNA modification, storage, and translation – tight regulation of which is required for male germ cell development. To date, her work has expanded our understanding of RNA regulation mechanisms. At Rutgers, with support from her NIH New Investigator Award, Beth will continue to study germ cell development and potential causative factors of human male infertility.
Experience
| Title | Location | Year |
| --- | --- | --- |
| Assistant Professor | Rutgers University | 2017 |
| Associate Research Scientist | The Jackson Laboratory | 2015 |
| Post-doctoral Fellow | The Jackson Laboratory | 2010 |
| Research Assistant | Western Washington University | 2003 - 2004 |
Education
| Degree | Location | Year |
| --- | --- | --- |
| Postdoc | Robert Braun Laboratory, The Jackson Laboratory | 2010 - 2015 |
| Ph.D. | School of Molecular Biosciences, Washington State University | 2010 |
| B.S. | Molecular Biology, Western Washington University | 2004 |
Representative Publications
Elizabeth M. Snyder, Christopher McCarty, Adrienne Mehalow, Karen Svenson, Stephen A. Murray, Ron Korstanje, Robert Braun. APOBEC1 complementation factor (A1CF) is not required for C-to-U RNA editing in vivo. Jan. 2017. RNA.
Elizabeth M. Snyder, Konstantin Licht, Robert E. Braun. Testicular adenosine to inosine RNA editing in the mouse is mediated by ADARB1. Jan. 2017. Biology of Reproduction.
Tongjun Gu, Daniel M. Gatti, Anuj Srivastava, Elizabeth Snyder, Narayanan Raghupathy, Karen L. Svenson, Ivan Dotu, Jeffrey H. Chuang, Mark P. Keller, Alan D. Attie, Robert E. Braun, Gary A. Churchill. Genetic architectures of quantitative variation in RNA editing pathways. Feb. 2016. Genetics.
Elizabeth Snyder*, Ramani Soundararajan*, Manju Sharma, Andrea Dearth, Benjamin Smith, Robert E. Braun, Compound Heterozygosity for Y Box Proteins Causes Sterility due to Loss of Translational Control. Dec 2015. PloS Genetics. *These authors contributed equally to the work.
Chakraborty P, Buaas FW, Sharma M, Snyder E, deRooij DE, Braun RE. 2014. LIN28A marks the spermatogonial progenitor population and regulates its cyclic expansion. Stem Cells 32(4):860-873.
Davis JC, Snyder EM, Hogarth CA, Small C, Griswold MD.  2013.  Induction of spermatogenic synchrony by retinoic acid in neonatal mice.  Spermatogenesis 3: e23180.
Greenlee AR, Shiao MS, Snyder E, Buaas FW, Gu T, Stearns TM, Sharma M, Murchison EP, Puente GC, Braun RE. Deregulated sex chromosome gene expression with male germ cell-specific loss of dicer1. PLoS ONE.  Oct 2012. 7(10): e46359.
Snyder EM, Davis JD, Zhou Q, Evanoff, R, Griswold MD. Exposure to retinoic acid in the neonate but not adult mouse results in synchronous spermatogenesis.  Biol Reprod.  May 2011. 84(5):886-93.
Hogarth CA, Evanoff R, Kent T, Snyder EM, Mitchell D, Small CL, Amory J, Griswold MD. Suppression of Stra8 Expression in the Murine Gonad by WIN 18,446. Biol Reprod. May 2011. 84(5):957-65.
Snyder EM, Small CL, Griswold MD. Retinoic acid availability drives the asynchronous initiation of spermatogonial differentiation in the mouse. Biol Reprod. Nov. 2010. 83(5):783-90.
Snyder EM, Small CL, Bomgardener D, Xu B, Evanoff R, Griswold M, Hinton B. Gene expression in the efferent ducts, epididymis, and vas deferens during embryonic development of the mouse. Dev Dyn. Sep. 2010. 239(9):2479-91.
Snyder EM, Small CL, Li Y, Griswold MD. Regulation of gene expression by estrogen and testosterone in the proximal mouse reproductive tract. Biol Reprod. Oct. 2009.  81(4):707-16.