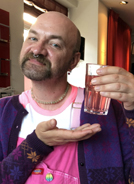 Associate Professor
Bartlett Hall 305B
Phone: 848-932-9454
Fax: 732-932-6996
Email: ta.roepke@rutgers.edu






Research
The effect of environmental influences and stresses, both naturally occurring and anthropogenic, on the physiological functions of organisms is the general focus of my research. My interests are on the actions of hormones, diets, and endocrine disrupting compounds (EDC) on neurophysiological functions that are controlled by the hypothalamus including energy balance, thermoregulation, stress, and reproduction. In recent years, membrane-initiated steroid signaling has emerged as an important component in the estrogenic modulation of hypothalamic functions and offer novel mechanisms of toxicity for environmental contaminants. My goal is for a greater understanding of the interaction between novel steroid (estrogen) signaling pathways, neuroendocrine functions, maternal and adult diets, and EDC on homeostatic functions controlled by the hypothalamus. I am also interested in the long-term consequences of maternal exposures to low-doses of EDC in model species and how these maternal exposures may affect normal adult offspring physiological functions. To address these questions, we use a range of molecular, cellular, electrophysiological, and whole-animal physiology techniques.
Currently, my research areas are:
1. Determine the role of ERalpha-mediated, estrogen response element (ERE)-dependent and ERE-independent signaling on behaviors (feeding, exploratory, mood), cardiovascular parameters, and the development of energy homeostasis using the mouse transgenic models (ERalpha knockouts (ERKO) and ERalpha KI/KO, which lack a functional DNA binding domain).
2. The role of membrane-initiated estrogen signaling in the control of corticotropin-releasing hormone (CRH)/factor (CRF) neurons and their subsequent involvement in stress and mood.
3. The role of ghrelin's receptor, GHSR, in arcuate kisspeptin neuronal activity and their control of reproduction and energy homeostasis.
4. Determine the effects of adult exposures to EDC (flame-retardants) on the arcuate neuronal activity and hormone sensitivity using whole-cell patch clamp using transgenic GFP-tagged mouse models (POMC, NPY, Tac2).
5. Determine the effects of maternal influences of EDC (flame-retardant) exposure on the adult offspring energy and glucose homeostasis.
Experience
| Title | Location | Year |
| --- | --- | --- |
| Assistant Professor | Department of Animal Sciences, Rutgers University | 2011 |
Education
| Degree | Location | Year |
| --- | --- | --- |
| Postdoctoral | Neuroendocrinology, Oregon Health & Science University | 2011 |
| Ph.D. | Physiology, University of California at Davis | 2005 |
| M.A. | Biology, San Francisco State University | 2002 |
| B.S. | Marine Science/Biology, Long Island University, Southhampton College | 1992 |
Members of the Roepke Lab
Ali Yasrebi, MS student in Endocrinology and Animal Biosciences
Gwyndolin Vail, Ph.D. student in Toxicology
Sabrina Walley, Ph.D. student in Toxicology
Kristine Conde, Ph.D. student in Neuroscience