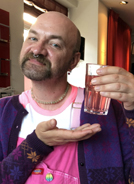 Assistant Professor
Bartlett Hall 305B
Phone: 848-932-9454
Fax: 732-932-6996
Email: ta.roepke@rutgers.edu





Research
The effect of environmental influences and stresses, both naturally occurring and anthropogenic, on the physiological functions of organisms is the general focus of my research. My particular interests are on the actions of hormones, diets, and endocrine disrupting compounds (environmental estrogens, etc.) on neurophysiological functions that are controlled by the hypothalamus including energy balance, thermoregulation, stress, and reproduction. In recent years, membrane-initiated steroid signaling has emerged as an important component in the estrogenic modulation of hypothalamic functions and offer novel mechanisms of toxicity for environmental contaminants. My goal is for a greater understanding of the interaction between novel steroid (estrogen) signaling pathways, neuroendocrine functions, maternal and adult diets, and endocrine disrupting compounds on homeostatic functions controlled by the hypothalamus. I am also interested in the long-term consequences of maternal exposures to low-doses of these compounds in model species and how these maternal exposures may affect normal adult offspring physiological functions. To address these questions, we use a range of molecular, cellular, electrophysiological, and whole-animal physiology techniques.
Currently, my research has 3 main areas:
1. Determine the consequences 17beta-estradiol and environmental estrogens (bisphenol A, zearalenone, nonylphenol, etc.) on hypothalamic gene expression and homeostatic functions especially energy homeostasis and reproduction due to adult and maternal exposures using multiple mouse transgenic models including ERalpha knockouts (ERKO) and ERalpha KI/KO, which lack a functional DNA binding domain.
2. Determine the effects of high fat diets, caloric restriction, 17beta-estradiol, and environmental estrogens on the neuronal activity and sensitivity of hypothalamic neurons to peripheral hormones and central neurotransmitters via whole-cell patch clamp using transgenic GFP-tagged mouse models (POMC, NPY, Tac2).
3. Determine the effects of maternal influences including nutrition on the adult offspring energy homeostasis, reproduction, hypothalamic neuronal functions, and gene expression using the mouse models discussed above.
Experience
| Title | Location | Year |
| --- | --- | --- |
| Assistant Professor | Department of Animal Sciences, Rutgers University | 2011 |
Education
| Degree | Location | Year |
| --- | --- | --- |
| Postdoc | Neuroendocrinology, Oregon Health & Science University | 2011 |
| Ph.D. | Physiology, University of California at Davis | 2005 |
| M.A. | Biology, San Francisco State University | 2002 |
| B.S. | Marine Science/Biology, Long Island University, Southhampton College | 1992 |
Members of the Roepke Lab
Ali Yasrebi, MS student in Endocrinology and Animal Biosciences
Jennifer A. Yang, Ph.D. student in Endocrinology and Animal Biosciences
Kyle J. Mamounis, Ph.D. student in Nutritional Sciences
Gwyn Vail, Ph.D. student in Toxicology
Professional Societies
Society for Neuroscience
Endocrine Society
American Physiological Society
Society for Behavioral Neuroendocrinology
Other Rutgers Affiliations
Member, Graduate Program in Nutritional Sciences
Member, Graduate Program in Neuroscience
Member, Joint Graduate Program in Toxicology
Rutgers Brain Institute
Rutgers New Jersey Institute for Food, Nutrition, and Health
Center for Environmental Exposures and Disease
Courses
Representative Publications
Roepke TA, Yang JA, Yasrebi A, Mamounis KJ, Oruc E, Zama A, and Uzumcu M. 2016. Endocrine disrupting compounds regulate genes involved in energy homeostasis in female rats exposed during development. Reprod Toxicol 62:18-26
Yang JA, Yasrebi A, Mamounis KJ and Roepke TA. 2016. ERE-dependent and ERE-independent gene regulation by 17beta-estradiol in the arcuate nucleus of female mice. Steroids 107:128-138
Gotthardt, JD, Verpeut JL, Yeomans BL, Yang JA, Yasrebi A, Roepke TA, and Bello NT. 2016. Intermittent Fasting Promotes Fat Loss with Lean Mass Retention, Increased Hypothalamic Norepinephrine Content, and Increased Neuropeptide Y Gene Expression in Diet-Induced Obese Male Mice. Endocrinology 157:679-691
Yasrebi A, Hsieh A, Mamounis KJ, Krumm EA, Yang JA, Magby J, Hu P, and Roepke TA. 2016. Regulation of GHSR signaling pathway in the arcuate nucleus and NPY neurons by fasting, diet-induced obesity and 17beta-estradiol. Mol Cell Endocrinol 422:42-56
Mamounis KM, Yang JA, Yasrebi A, and Roepke TA. 2014. Estrogen response element-independent signaling partially restores post-ovariectomy body weight gain but is not sufficient for 17beta-estradiol's control of energy homeostasis. Steroids. Steroids. 81:88-98
Ropero AB, Alonso-Magdalena P, Soriano S, Juan-Pic? P, Roepke TA, Kelly MJ, and Nadal ?. 2012. Insulinotropic effect of the non-steroidal compound STX in pancreatic beta-cells. PLoS One 7(4):e34650. PubMed
Roepke TA, Smith AW, R?nnekleiv OK and Kelly MJ. 2012. Serotonin 5-HT2C receptor-mediated inhibition of the M-current in hypothalamic POMC neurons. Am J Physiol Endocrinol Metab 302(11):E1399-406. PubMed
Roepke TA, Qiu J, Smith AW, R?nnekleiv OK and Kelly MJ. 2011. Fasting and 17beta-estradiol differentially modulates the M-current in neuropeptide Y neurons. J Neurosci 31(33):11825-11835.
Roepke TA, R?nnekleiv OK and Kelly MJ. 2011. Physiological consequences of membrane-initiated estrogen signaling in the brain. Frontiers Biosci 16:1560-1573.
Roepke TA, Bosch MA*, Rick EA, Lee B, Wagner EJ, Seidlova-Wuttke D, Wuttke W, Scanlan TS, Ronnekleiv OK and Kelly MJ. 2010. Contribution of a membrane estrogen receptor to the estrogenic regulation of body temperature and energy homeostasis. Endocrinology 151:4926-4937 *Co-first author.
Roepke TA, Qiu J, Bosch MA, R?nnekleiv OK and Kelly MJ. 2009. Cross-talk between nuclear-initiated and membrane-initiated oestrogen signalling in the hypothalamus. J Neuroendocrinol 21:263-270.
Roepke TA, 2009. Oestrogen modulates hypothalamic control of energy homeostasis through multiple mechanisms. J Neuroendocrinol 21(2):141-50. Young Investigators Perspective
Roepke TA, Xue C, Bosch MA, Scanlan TS, Kelly MJ and R?nnekleiv OK. 2008. Genes associated with membrane-initiated signaling of estrogen and energy homeostasis. Endocrinology 149(12):6113-6214
*Xu C, Roepke TA, Zhang C, R?nnekleiv OK and Kelly MJ. 2008. GnRH I activates the M-current in GnRH neurons: an autoregulatory negative feedback mechanism? Endocrinology 149:2459-2466. *Co-first author.
Zhang C, Roepke TA, R?nnekleiv OK and Kelly MJ. 2008. Ionic mechanisms of kisspeptin depolarizes GnRH neurons through activation of TRPC-like cationic channels. J Neurosci 28(17):4423-34.
Roepke TA, Malyala A, Bosch MA, Kelly MJ and R?nnekleiv OK. 2007. Estrogen regulates gene important for K+ channel signaling in the arcuate nucleus. Endocrinology 148:4937-4951.
Roepke TA, Chang ES and Cherr GN. 2006. Maternal exposure to estradiol and endocrine disrupting compounds alters the sensitivity of sea urchin embryos and the expression of an orphan steroid receptor. J Exp Zool 305A:830-841.
Roepke TA, Snyder MJ and Cherr GN. 2005. Estradiol and endocrine disrupting compounds adversely affect the normal development of the sea urchin embryo at environmentally relevant concentrations. Aquat Toxicol 71(2):155-173.