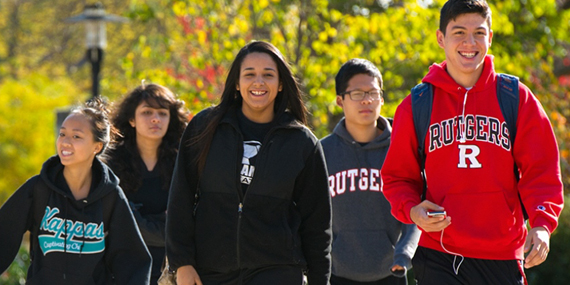 Overview
Animal Science is a popular program for many students enrolled at the Rutgers University, School of Environmental and Biological Sciences (SEBS). Over 450 upperclass students are enrolled as majors. In addition, approximately 90 first-year and 35 transfer students declare Animal Science as their major each year. Additionaly, an Animal Science minor is available to nonmajors at SEBS and the School of Arts and Sciences.
The campus farm and small-animal facilities are integral to the Animal Science program at Rutgers. Students may enroll in hands-on animal practicums where they learn about the handling, management, feeding, reproduction, physiology, and behavior of dairy heifers, sheep, goats, pigs, horses, and laboratory animals. They also may conduct independent research using state-of-the-art techniques to study integrated physiology of animals at the whole system, cellular, and molecular levels. Students will have the opportunity to participate in internships that offer college credit for work in a variety of settings, including veterinary practices as well as research laboratories of pharmaceutical companies and other industries. Study abroad opportunities are also available.
The curriculum provides students with the scientific knowledge, skills, and experience to be competitive for entry into veterinary, graduate, or medical schools or employment in animal science-related fields. Companies that conduct large and small animal research or develop and market human and animal health products or feeds/supplements provide numerous employment opportunities for our graduates with B.S. degrees. Commercial dairy, horse, and livestock farms, historical agricultural farms, and zoos also provide employment opportunities.
All faculty members have a Ph.D. degree in their area of specialization; several also have a veterinary degree. Their responsibilities include teaching, student advising, and conducting research and outreach activities in fields related to animal science. The faculty are instrumental in providing students with experience in state-of-the-art techniques used in molecular biology, nutrition, physiology, and behavior of animals.
Four student organizations act in support of the Animal Science program: Society of Animal Science, Veterinary Science Club, Seeing Eye Puppy Raising Club, and Companion Animal Club. Each club sponsors invited speakers, field trips, and career orientation presentations that are both social and educational. These clubs contribute greatly to the success of Ag Field Day. The animal shows, BBQ, and Petting Zoo are top Ag Field Day attractions due to the leadership of the Society of Animal Science and Veterinary Science Club.
The Animal Science program offers a great opportunity to achieve an excellent undergraduate education in a pleasant, friendly, and stimulating environment.
Testimonials
The Animal Science program at Rutgers University did a superior job preparing me for veterinary school. The difficulty level of the classes I took at Rutgers parallel those at The University of Pennsylvania School of Veterinary Medicine. Rutgers taught me how to be independent and how to take initiative to accomplish tasks. Furthermore, Rutgers University provided the support and guidance for me to develop and hone successful study tactics that I continue to use while in Veterinary school.
— Michelle Hernandez '15 (University of Pennsylvania School of Veterinary Medicine, Class of 2019)
As a suburban girl from northern New Jersey, I was never exposed to large animals the way I was at Rutgers. I even ended up coordinating the dairy cattle show during my senior year! I not only learned how to act around horses but also the details of their anatomy, physiology, and nutritional needs. The strength of this program is evident from the high acceptance rate into veterinary school. There is no other program that prepares its students as well as Rutgers. When people ask me if majoring in Animal Science at Rutgers was challenging, I tell them to list all the classes their Pre-Med friends are taking, but then multiple it by two to account for the additional nutrition, reproduction, physiology, and anatomy courses (among others) as well as the necessary 9 credits of experience-based credits we need to acquire from working hands-on with the animals on campus.Through the Rutgers Pre-Vet program I was able to expose myself to everything from equine research, to handling and fitting of dairy cattle, to classes where I learned the true value of how "integrative" veterinary medicine is across all science disciplines.
— Shira Rosenblum '15 (University of Pennsylvania School of Veterinary Medicine, Class of 2020; Research Specialist, University of Pennsylvania Perelman School of Medicine)