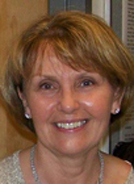 Research
Studies in my laboratory focus on improving our understanding of (1) maternal programming of development by testing the lactocrine hypothesis and (2) the role of the hormone relaxin in reproduction.
Maternal contributions to offspring development begin at conception, continue during gestation, but do not end at birth. The role of nursing as a means of extending communication between mother and offspring into the postnatal period is of interest in our laboratory. Our group defined the term lactocrine as a means of maternal delivery of milk-borne bioactive factors into the circulation of offspring as a consequence of nursing. Porcine milk contains relaxin that is transmitted into the peripheral circulation of neonates only if they are allowed to nurse. These studies indicate that a window of opportunity for transmission of milk-borne bioactive factors, including relaxin, from mother to neonate is open during the first few days of life. Data from our porcine model provide compelling evidence that maternal programming of neonatal female reproductive tract development requires lactocrine signaling from birth.
Current studies center on the short-term effects of milk-borne factors on neonatal development as well as the long-term consequences of lactocrine signaling on reproductive health and fertility in adulthood. Studies focus on transcriptomic and proteomic changes in neonatal and adult reproductive tissues as a function of nursing. Since all mammals evolved to nurse, this research has broad implications for understanding maternal contributions to postnatal reproductive tract programming in both humans and domestic animals.
Experience
Title
Location
Year
Chair
Dept. of Animal Sciences, Rutgers University
2020 - present
Director
Graduate Program in Endocrinology and Animal Biosciences
Rutgers University
2014 - 2020
Chair
Dept. of Animal Sciences, Rutgers University
2008 - 2014
Professor
Dept. of Animal Sciences, Rutgers University
2002
Visiting Scientist
Merck & Co., Inc.
Dept. of Atherosclerosis & Endocrinology
2001 - 2002
Associate Professor
Dept. of Animal Sciences, Rutgers University
1994
Associate Chair
Dept. of Animal Sciences, Rutgers University
1995
Assistant Professor
Dept. of Animal Sciences, Rutgers University
1988
Associate Researcher
Pacific Biomedical Research Center (PBRC)
Dept of Anatomy and Reproductive Biology
University of Hawaii

1987
Assistant Researcher
Pacific Biomedical Research Center (PBRC)
Dept of Anatomy and Reproductive Biology
University of Hawaii

1985
Education
| Degree | Location | Year |
| --- | --- | --- |
| Postdoc | University of Hawaii | 1984 |
| Ph.D. | Medical College of Georgia | 1983 |
| M.S. | West Virginia University | 1976 |
| B.S. | Glassboro State College, NJ | 1974 |
Members of the Bagnell Laboratory
| Name | Title |
| --- | --- |
| Teh-Yuan Ho | Research Associate |