SEBS Leads with Number of Undergraduate Students Enrolled in Face-to-Face Instruction During the Pandemic
For the Fall 2020 semester, a very limited number of courses were approved by university administration to take place on Rutgers campuses. According to Dean of Academic Programs Thomas Leustek, SEBS currently has the largest number of undergraduates enrolled in face-to-face instruction of any school at Rutgers University–New Brunswick. Of the 346 classes offered by SEBS this fall, 10 are being taught in-person. Full article
2019 NEFS Graduate Student Conference
Ellen Rankins, Ph.D. student, Endocrinology & Animal Biosciences
The 2019 Nutrition, Endocrinology, and Food Science (NEFS) Graduate Student Conference took place on April 2nd. This annual conference is the result of collaborations between the Endocrinology and Animal Biosciences, Food Science, and Nutritional Sciences Graduate Student Organizations. The planning and implementation of the conference is undertaken by graduate students in the three organizations. It provides an opportunity for students to work together and learn the skills necessary to run an event. This year's event included keynote addresses from Dr. Troy Ott of Penn Sate University and Dr. de Cabo of the National Institute of Aging as well as a career panel featuring representatives from industry and academia. Graduate student speakers from each program shared their research with attendees. The sharing of research was also facilitated by a poster session featuring graduate and undergraduate students. One of the new additions to this year's program was the incorporation of active breaks led by Rutgers Recreation. The success of this year's conference was due to the generous support of the conference sponsors and the many attendees.
Dr. Carey Williams interviewed on "Let's Talk" - RVN TV
Dr. Carey Williams was interviewed by Darlene Supnick of "Let's Talk" on RVN TV on March 21st, 2019. The interview covered the Rutgers University Teaching Herd (RUTH) and the program the are involved with to teach students about handling and care of horses. Some of the RUTH horses are fostered from area NJ equine rescues for a period of 3 months to be used in the Animal Handling and Fitting Course, and in the 3-month period they learn basic showmanship maneuvers. Dr. Williams also advertises the horses in hopes to find them forever homes as most all of them are adoptable through their respective recuse. The public is invited to come learn more about the RUTH horses and see them in action at our Ag Field Day Horse show on April 27th from 10 to noon!
Congratulations to the 2019 Rutgers NESA Team!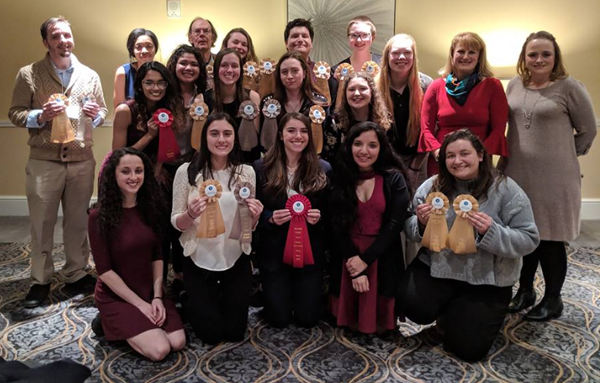 Congratulations to our 2019 Rutgers NESA Team for its 2nd place Overall Institutional finish! Awards were presented the evening of the competition at an awards banquet put on by the host school, University of Delaware. Advisors were Dr. Carey Williams, Dr. Barry Jesse, and Jen Weinert (Ph.D. student, Endocrinology and Animal Biosciences).
Results for individual students and teams in the different phases of the competition:
NESA Teams
Team A - Josh Corris, Veronica Useche, Emily Gussman, Rebecca Szuminsky
Team B - Mackenzie Matikonis, Zachary Newman, Alexandria Newman, Deanna Bullock
Team C - Victoria Cassagnol, Raeshawn Bellamy, Kiara Londono, Samantha Gulli
Team D - Ashly Kurian, Jocelyn Rodriguez, Gabrielle Muntean, Kirsten Jeansson
Team and Individual Awards (out of a 33 total teams and 132 individual students):
TEAM B placed 8th overall.
TEAM A placed 9th overall.
Two teams placed in Quiz Bowl: TEAM B placed 8th and TEAM A placed 10th.
TEAM A placed 8th in Livestock Judging.
We had very strong Review paper presenters with 1 in the top 8! Ashly Kurian placed 2nd with her presentation "Entomophagy and Food Security".
Here's How Binge Drinking Can Rewrite Your DNA
Congratulations to department faculty Dipak Sarkar and Omkaram Gangisetty for their alcohol research being featured! See the Heathline website for more information.
Dr. Michael Westendorf named "Specialist of the Year"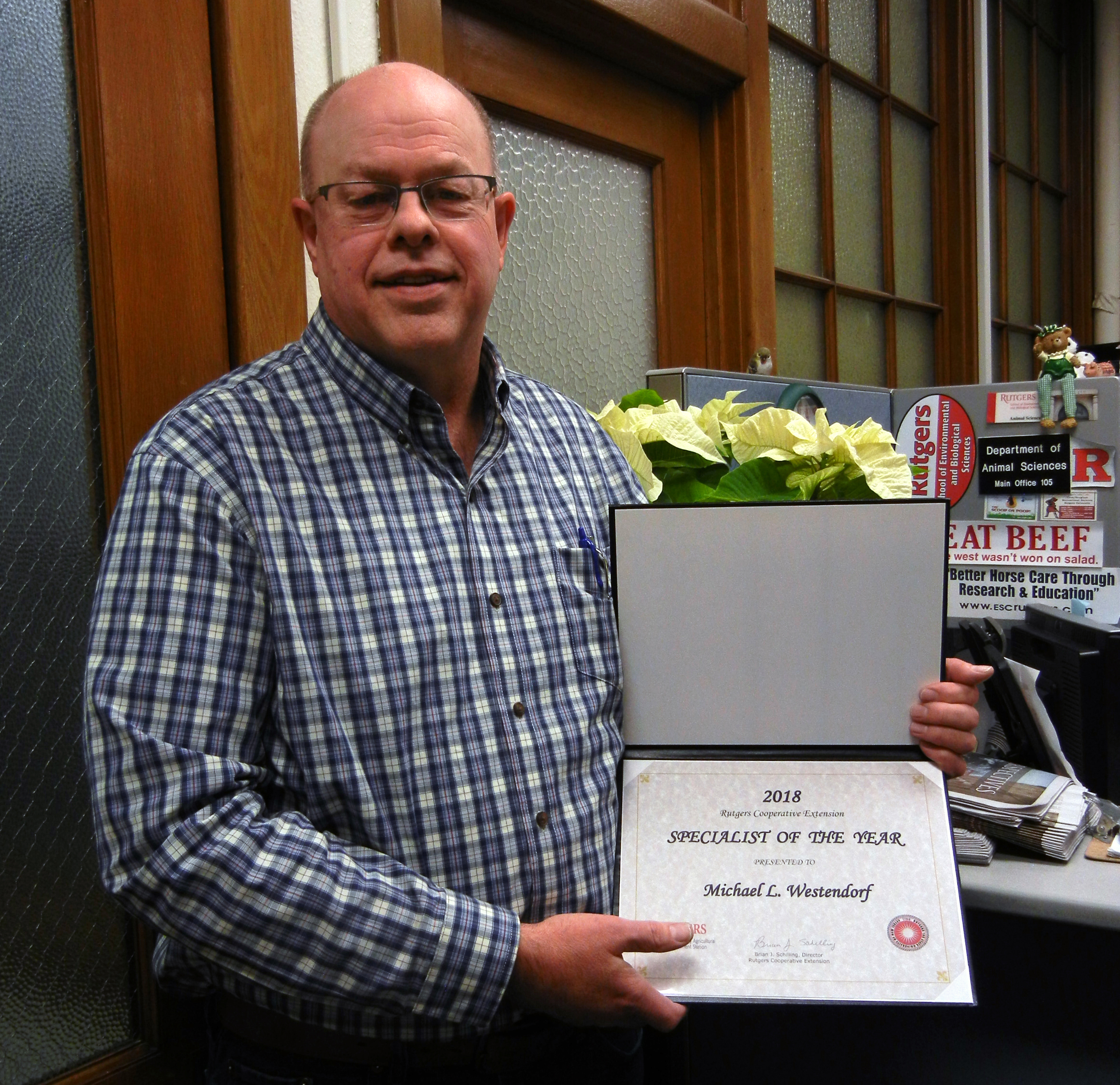 Dr. Michael Westendorf was named "Specialist of the Year" at Rutgers Cooperative Extension's December 11th meeting and awards lunch at the Cook Student Center.
Mike was selected for the award by Rutgers County Agents from the Agriculture and Natural Resources, Family and Consumer Health Sciences, and 4-H Departments in recognition of service to these departments. The primary clientele for most of the 30+ Rutgers Specialists is the County Extension Agents. Mike's job is to carry out livestock and dairy educational programs and provide information and service primarily for counties.
Congrats, Mike!
Congratulations, Jennifer Weinert!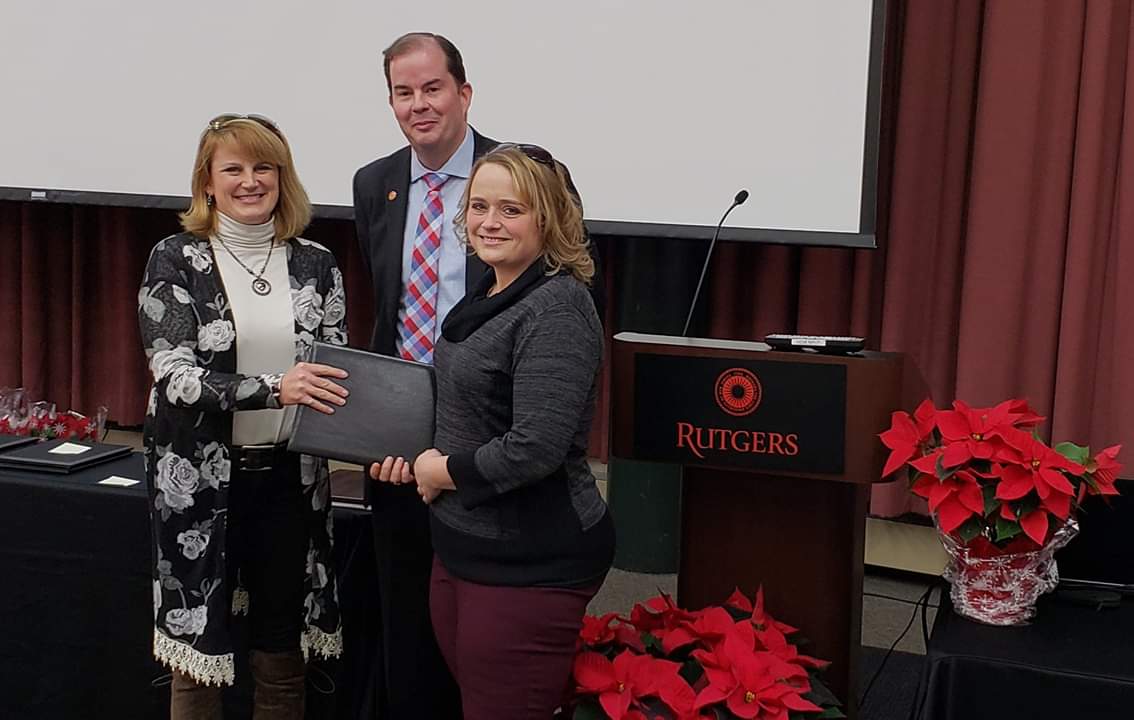 Congratulations to Jennifer Weinert who received the Wilbur Runk Award from Rutgers Cooperative Extension on December 11 at the Cook Student Center. This award is given to outstanding graduate students whose faculty mentor is an Extension Specialist.
Jennifer's current work is focused on the use of rotational grazing systems in horse pastures. Ms. Weinert is also exploring the use of different cool and warm season grasses to lengthen the period of grass availability during the growing season, and thereby reducing the amount of hay that has to be fed.
Explorations Magazine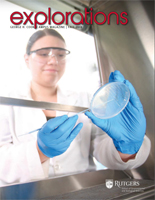 See story about Endocrinology and Animal Biosciences alum Tiffany Polanco Katz GSNB '10 (Cohick Lab, p. 19) and note from Animal Science alum Adam Christman CC'00 (p. 24).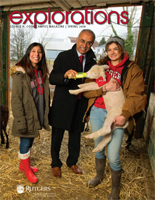 Animal Sciences is the SEBS department featured in this issue! See stories about Cook Campus Farm cattle as well as Animal Science undergrads Isaac Alejo Reyes SEBS'18 and Claressa Lopez SEBS'18; Endocrinology and Animal Biosciences alum Hank Bignell GSNB'14 (Bagnell lab); and Animal Science alum/donor/friend Dr. Mike Graziano CC'79. Also, see snapshots re: research projects conducted by Drs. Bill Belden and Nick Bello.
Animal Science Update