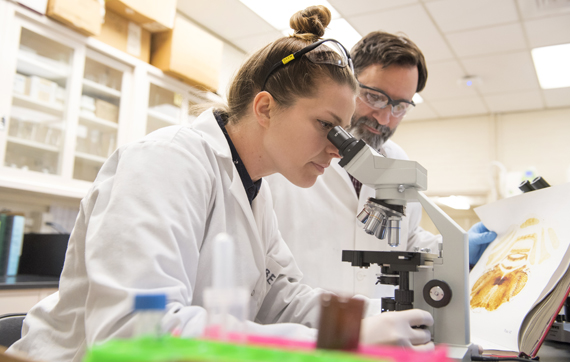 Thank you for your interest in the Graduate Program in Endocrinology and Animal Biosciences of the Rutgers School of Graduate Studies! Our program provides research-oriented training leading to the M.S. and Ph.D. degrees in basic animal physiology. A major emphasis of our program is on endocrine physiology with research conducted at the organismal, cellular, and molecular levels. The members of our graduate faculty come from many different departments across Rutgers, including Animal Sciences, Nutritional Sciences, Food Science, Genetics, Pharmacology and Toxicology, and Pediatrics.
Our curriculum is full and comprehensive, drawn in part from the diverse and extensive courses offered by the many other biological programs universitywide. Major areas of interest include endocrinology of growth, lactation, and reproduction; gastrointestinal health (the gut microbiome, glucose and amino acid metabolism) and obesity; neurobiology of reproduction, energy balance, stress, motivation, addiction, and mood; endocrine disruption and toxicology; and equine science and exercise physiology.
Research facilities are located in Foran Hall, Bartlett Hall, Food Science and Nutritional Sciences Building, and the Endocrine Research Facility, all of which are located at the School of Environmental and Biological Sciences (SEBS) on the George H. Cook Campus. Animal research models include horses, pigs, rodents, and zebrafish. Recent graduates have successfully moved into postdoctoral positions as well as permanent positions in academic, governmental, and corporate settings.
Inquiries about admission requirements and financial aid may be made to the Graduate Program Director or Graduate Program Coordinator. Applications and supporting materials may be submitted on the Graduate and Professional Admissions website. I look forward to hearing from you concerning your interest in our program.
GRE are waived for the 2020-2021 application period due to COVID-19 pandemic.