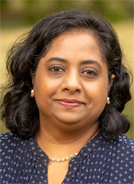 Associate Teaching Professor
Undergraduate Program Director
Pre-Vet Advisor
Bartlett Hall, Room 209A
848-932-8495
zama@rutgers.edu
Research
A woman's reproductive lifespan depends on the size and health of the initial pool of oocytes and early stage follicles and their maturation into ovulatory follicles. Complex bidirectional communication between the oocyte and its surrounding somatic cells involves local paracrine factors, steroid hormones as well as gonadotropins. Subsequent to ovulation, the ability of the oocyte to be fertilized and implanted for a successful pregnancy depends on uterine function. Critical uterine developmental windows overlap with those of the ovary in late gestation and the first two weeks after birth, and exposure to toxicants during these early developmental stages can cause long-lasting detrimental changes in the health of the female reproductive system.
The developmental origins of health and disease (DOHaD) concept, also known as the Barker hypothesis, states that exposures to nutritional and environmental stressors during early development cause diseases by adulthood in humans as well as other animals. Toxicants such as endocrine-disrupting chemicals (EDCs) are becoming increasing prevalent in the environment presenting a serious threat to public health. EDCs are chemicals that mimic endogenous hormones and disrupt the normal signaling and function of the endocrine system. One can be exposed to EDCs via multiple environmental sources such as pesticide contamination, plastics, pharmaceuticals, and phytoestrogens among others. Early puberty, premature ovarian failure, impaired fertility as well as breast and uterine cancers have been documented in animal studies with estrogen-mimicking EDCs and have been substantiated by a large body of epidemiological evidence from wildlife and humans.
The overall goal of my research program is to identify whether the epigenome (DNA methylation patterns and histone modifications) is altered due to early exposures to EDCs and if such epigenetic reprogramming events result in infertility and/or cancer. Current projects in the lab utilize a combination of techniques in genetics, epigenetics, physiology, reproductive and developmental biology, toxicology, and molecular biology, in rodent models, to fine dissect the specific gene/signaling pathways that are affected.
Experience
| Title | Location | Year |
| --- | --- | --- |
| Assistant Research Professor | Dept. of Animal Sciences, Rutgers University | 2012 |
| Research Associate | Dept. of Animal Sciences, Rutgers University | 2006 |
Education
Degree
Location
Year
Postdoctoral Research Fellow
Center for Reproductive Sciences
University of Kansas Medical Center
2006
Ph.D.
Department of Genetics
University of Georgia
2004
M.S.
University of Hyderabad, India
1997
B.S.
Osmania University, Hyderabad, India
1994