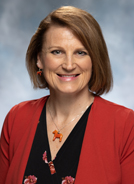 Research Specialization
The broad theme of my research area is equine nutrition; specifically, how nutrition affects the performance of the equine athlete, and how pasture content affects horse's metabolism of soluble carbohydrates and the gut microbiome. One area of focus has been to examine the effects of reducing oxidative stress and inflammation using various antioxidant supplements affects performance of the equine athlete. A second, and more recent, area of focus is to investigate the effects of different grazing systems for horses and the impact on the vegetation and the soil along with horse nutrition, health and microbiome.
Extension Responsibilities
I facilitate and coordinate educational programs for the equine industry in NJ as well as multi-state and multidisciplinary programs in whole farm management. Many of these educational programs have focused on not only horse nutrition but also making horse farms environmentally friendly by using proper Best Management Practices.
Teaching Responsibilities
Currently I teach one classroom lecture-based course in the fall semester and spring session (Comparative Mammalian Anatomy) and one fully online course in the spring (Equine Nutrition). During fall and spring semesters, I am also responsible for equine sections of the experienced-based courses Animal Handling, Fitting and Exhibition for students and supervisors. I also provide various guest lectures for other Animal Science courses. In addition, I serve as academic advisor for undergraduates and honors students and am on the department's curriculum committee as well as serve on two graduate faculties (Endocrinology and Animal Bioscience (EAB) and Kinesiology and Applied Physiology (KAP)).
Experience
| Title | Location | Year |
| --- | --- | --- |
| Professor | Dept. of Animal Sciences, Rutgers University | 2019 - present |
| Associate Professor | Dept. of Animal Sciences, Rutgers University | 2009 - 2019 |
| Assistant Professor | Dept. of Animal Sciences, Rutgers University | 2003 - 2009 |
| Equine Extension Specialist | Dept. of Animal Sciences, Rutgers University | 2003 - present |
| Graduate Teaching and Research Assistant | Virginia Tech | 1998 - 2003 |
Education
| Degree | Location | Year |
| --- | --- | --- |
| Ph.D. | Equine Nutrition and Exercise, Virginia Tech | 2003 |
| M.S. | Equine Nutrition, Virginia Tech | 2000 |
| B.S. | Equine Science, Colorado State University | 1998 |
Current Graduate Students
None at this time