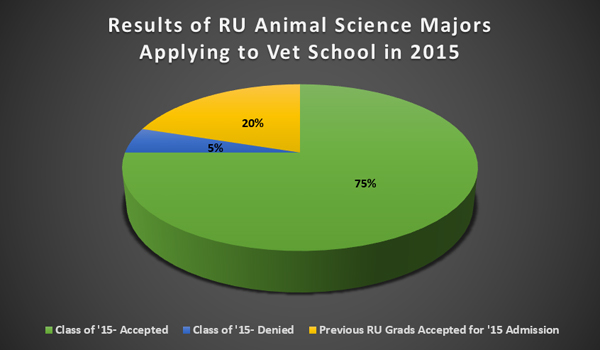 Since 2000, the acceptance rate to accredited veterinary schools has been over 70% for qualified graduates from our program (i.e., GPA greater than 3.2 with strong GRE scores and letters of recommendation). This rate is consistently higher than the nationwide average of less than 50% acceptance for qualified students from states without a school of veterinary medicine.
Veterinary schools that most commonly accept our students include Cornell University, The Ohio State University, University of Pennsylvania, Tufts University, Tuskegee University, Western University, and the Royal (Dick) School of Veterinary Medicine in Scotland. Our graduates have also been accepted by veterinary schools at the University of California - Davis, North Carolina State University, Colorado State University, Florida State University, Virginia Tech/University of Maryland, Michigan State University, Iowa State University, University of Glasgow (Scotland), and the Royal Veterinary College in London.
Frequently Asked Questions About Preparation for Veterinary School

Table of Contents
Which college/major should I enroll in?
What courses should I take?
What about animal experience?
What's the deal with contract seats?
How do I get more information?
Which college/major should I enroll in?
A student in any undergraduate major at Rutgers may enroll in the courses required for entry into veterinary school. However, most pre-vet students at Rutgers are Animal Science majors in the School of Environmental and Biological Sciences (SEBS) on the George H. Cook campus in New Brunswick. However, a student could elect a major in biology, chemistry, economics or even history, as long as the pre-professional courses required by the veterinary school(s) to which they plan to apply are successfully completed (See below). It is strongly recommended that students also obtain as broad an education as possible and that they explore other interests and careers during their undergraduate years. This way they will be more aware of alternate careers if it turns out that veterinary medicine is not something they really want to pursue, which happens to over 50% of the students who start college as pre-veterinary students. The reasons for the change in direction are varied, with everything from "The pre-veterinary curriculum is too rigorous for me" to "I found I like research better" to "I discovered I faint at the sight of blood!". Our pre-veterinary curriculum prepares students for far more career paths than just veterinary medicine, so their endeavors here are never wasted.

What courses should I take?
Vet schools do not require a particular major, but they do require that a certain selection of undergraduate courses be completed. The courses required differ among the vet schools in North America (US and Canada); however most require at least 2 semesters each of biology, inorganic chemistry, physics, and organic chemistry, plus courses in biochemistry, math, statistics, genetics, microbiology and English or public speaking. Check the current Veterinary Medical School Admission Requirements in the United States and Canada, published annually by the Association of American Veterinary Medical Colleges, or visit the website of the individual schools for their specific requirements.

What about animal experience?
Veterinary medicine is an animal-oriented profession, and therefore proof of both animal experience and veterinary experience is an essential component of the vet school application. Animal experience can be obtained in an animal shelter, farm or research setting- just owning a pet does not really qualify! All of the schools require that you also have extensive experience working with veterinarians, in clinical and/or research settings to be sure that this profession is "right for you". The Department of Animal Science requires 9 credits of "hands-on" experience which can be obtained through courses on the Cook Campus farm, working in faculty run research laboratories and participating in internships. The horse, swine, dairy cattle, small ruminant and lab animal practica allow experience with daily care of those animals in the Cook Campus animal facilities. The Animal Handling, Fitting, and Exhibition course enables students to work with a farm animal in a show setting as well as preparation of their animal for the show. The Seeing Eye Puppy Club give students the opportunity to learn how to care for and train puppies for the Seeing Eye. Students may also find internship positions as veterinary assistants or other animal oriented jobs to complete their experiential learning requirement through the Student to Professional Internship Network (SPIN).

Acceptance to veterinary school (What's the deal with contract seats?)
There are only 30 accredited veterinary schools in the US, and three states have two schools (California, Tennessee and Alabama) in addition to AVMA accredited foreign veterinary schools in Canada (5), Australia (4), West Indies (2), Scotland (2) and one each in England, Mexico, the Netherlands, Ireland and France. Most US schools are state-funded, and therefore accept students predominantly from their own state. New Jersey does not have its own vet school. In 1990 through 2007 there was a state funded "contract" program with veterinary schools in other states to "buy" seats reserved exclusively for New Jersey residents. The schools received a capitation fee for each reserved exclusively for qualified residents of New Jersey. This meant that NJ residents were only competing against each other, not the entire population of applicants at large, for the seats, vastly improving their chances for admission and allowing them to attend at "in state" tuition fees. Funding for these seats was allocated annually in the state budget and distributed to the contract schools by the Department of Higher Education Student Assistance Authority (HESAA). In the height of the program New Jersey had up to 26 to 30 contract seats in 7 schools including University of Pennsylvania, Cornell University (New York), Tuskegee University (Alabama), Iowa State University, Oklahoma State University, University of Illinois, and Tufts University (Massachusetts). Continued budget cuts since 2001 resulted in the number of seats being cut to zero in 2010. There is no talk of restoring funding in the future. However, the New Jersey Veterinary Medical Education Contract Program has not been removed from the "books" and there is hope that funding might be restored if enough of a demand is voiced by New Jersey residents. That being said, as mentioned before and depicted in the pie chart at the top of this page, qualified graduates from our pre-veterinary program have extremely high rates of acceptance to veterinary schools. The biggest obstacle they face, however, is finding the finances to pay the staggering tuition fees for out of state students. Even "in state tuition and fees exceed $150,000 for the 4 years, and starting salaries for veterinarians are usually less than $50,000/ year. It is imperative that a realistic financial plan be developed to pay for this career path before even applying for admission. future.

For More Information:
American Association of Veterinary Medicine
Association of American Veterinary Medical Colleges

Contact:
Aparna Zama
Pre-Vet Advisor
(848) 932-8495
zama@sebs.rutgers.edu