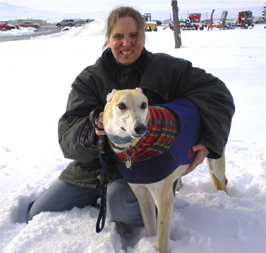 My name is Amanda Szucsik 01. I am 34 years old and was recently admitted (Class of 2018) to North Carolina State University s College of Veterinary Medicine. NCSU is the only veterinary school in the US to offer a focused, tracking curriculum in laboratory animal medicine. I am very, very excited to begin this next chapter in my life and can hardly believe that this dream is finally coming true!
I am firmly committed to the pursuit of a specialty in Laboratory Animal Medicine post-graduation. To modify a statement issued by the late Steve Irwin (of Crocodile Hunter fame), laboratory animals are my love, my life, and my reason for being. The opportunity to attend veterinary school is truly a dream realized. I never would have arrived at this juncture in my life had it not been for the Rutgers University Department of Animal Sciences.
I was born in Trenton, NJ in 1979. Shortly thereafter, my immediate family relocated to Natick, MA, a suburb just outside of Boston. As our extended family remained behind, I spent many a summer visiting grandparents, aunts, uncles, and cousins back in Jersey. I grew to have a great appreciation for the state and simultaneously recognized a precocial calling for a technical career involving animals. Once I knew that Rutgers, the State University of New Jersey, offered a course of study in the Animal Sciences, this became my undergraduate program of choice. I was admitted for matriculation in the fall of 1997.
From the moment I set foot on the Cook College (now SEBS) campus, RU provided me with a wealth of opportunities that benefited me in myriad fashion. The first of these were multiple hands-on experiences with a variety of animal species. I completed work-study assignments at PSARF (Poultry and Small Animal Research Facility) as well as in the Laboratory of Dr. Larry Katz. While on assignment at PSARF, I scraped the floors of goat pens, repaired fences, and painted buildings. Dr. Katz s Research Assistant, Susan Becker, taught me to restrain white-tailed deer, perform phlebotomy, and analyze serum for hormonal contents. The Katz lab was my first experience in research. I greatly enjoyed my time working therein, and actively sought additional intra/extramural research experience during my time at RU.
I was privileged as a Cook student to enroll in many Animal Science specific courses. Of course, Animal Science 142 (Intro to Animal Science; team taught) was a favorite, as was Animal Repro (taught by Dr. Carol Bagnell) and Animal Nutrition (then taught on location by Dr. Patricia Schoknecht; by far one of my favorite courses of my undergraduate education). It was in Systems Physiology that I truly hit my stride and professional passion. When I was enrolled in the course, Systems Phys was taught by Dr. Henry John-Alder (then faculty in the Dept. of Animal Sciences, now Chair of the RU Dept. of Ecology, Evolution, and Natural Resources). The laboratory was taught by Charles Kearns. When I was enrolled, Charlie was a PhD student in the laboratory of Dr. Ken McKeever, also an RU Animal Science faculty member. Charlie and I hit it off instantly, and he recruited me to assist on his dissertation project concerning the effects of Clenbuterol (a potent bronchodilator) on exercise performance/skeletal muscle physiology of Standardbred horses.
The times I spent in the Red Barn (i.e. Treadmill lab) were my happiest memories from RU. I relished greeting the sun, arriving at the barn, and putting our retired mares through their paces on Rutgers Sato I high-speed treadmill. There are simply no words to describe the riveting experience of standing next to a horse galloping at full-speed during a VO2 (maximal exercise) assessment. Following Dr. Kearns graduation from Rutgers, I continued in Dr. McKeever s lab and completed my GH Cook honors thesis under his direction. I investigated the effects of electrolytes on plasma acid-base homeostasis in Standardbred mares at rest and following exercise. This work resulted in my first peer-reviewed publication and jump-started my scientific career.
My senior year at RU (2001), I was faced with a difficult decision: Do I apply to veterinary school (as originally planned), or do I pursue advanced studies in organismal physiology (a latent passion)? I decided in favor of graduate school and moved west to pursue a PhD in Comparative Physiology in the Department of Ecology and Evolutionary Biology at the University of California Irvine. For my dissertation, I investigated the effects of chronic physiological stress on muscle plasticity in reptiles. Reptiles are unique in that they comprise the sole vertebrate clade incapable of response to aerobic exercise training. They do not atrophy their muscles in response to restricted use, nor do they hypertrophy skeletal muscle in response to a resistance training protocol. This is in stark contrast to all other animals within the trajectory of vertebrate evolution, of which reptiles occupy an intermediate position on the phylogenetic tree.
Although I loved the conduct of scientific research, I was less than thrilled with the life of an academic scientist. I was suffocated by the competition for federal grants and crushed by the pressure to publish in top tier journals. As such, I made the excruciating decision to exit my PhD in favor of a MS degree in my eighth year of the program. I left UCI on good terms, and worked in private industry (pre-clinical efficacy/safety testing; large/small animal modeling) for multiple years. I am currently working for the University of Utah under a human cardiothoracic surgeon investigating recovery from heart failure in transgenic mice.
My career in laboratory animal science has been very diverse. I have worked with horses, sheep, goats, deer, alligators, lizards, snakes, fishes, chickens, mice, rats, rabbits, and guinea pigs all in laboratory settings. I perform survival surgery, manage transgenic rodent colonies, and employ molecular techniques as daily responsibilities in my current position. I have exercised lizards on a treadmill, drawn blood from fish, and assisted on cardiac surgery in goats. Truly, I have enjoyed a blessed professional life.
Had it not been for my beginnings within the Rutgers University Department of Animal Sciences, I never would have received the superb start that I did. Because of this hatching, I have made the decision to devote my professional life to the enhancement of laboratory animal welfare as a veterinarian. Laboratory animals no longer consist solely of rats and mice (as is evident from the list I outlined above). I recall distinctly a rally to action relayed by Dr. Katz on our first day of lecture in Animal Science 142: Would you rather have an individual who cares deeply about the welfare of animals working in research, or an individual who could care less? I take this responsibility seriously; it is my vocation and way of life.
Thank you, for all you have done for me, RU Department of Animal Sciences. My testament to this gratitude lives on in the drawing I completed for you 13 years ago which continues to hang in the Bartlett Hall main office.
With love and best regards,
Amanda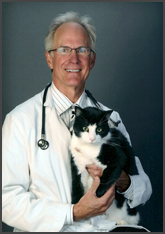 Dr. Stephen Birchard (CAES '72) went to veterinary school at the University of Missouri College of Veterinary Medicine (Class of 1976). He then was an associate veterinarian in a small animal practice in New Jersey for 2 years. Dr. Birchard then completed a small animal surgical residency program and Master s degree at Purdue University School of Veterinary Medicine in 1981 and became a Diplomate of the American College of Veterinary Surgeons in 1984. Before joining the faculty at Ohio State College of Veterinary Medicine in 1983, Dr. Birchard spent 2 years as an Associate Staff Surgeon at the Animal Medical Center in New York City. Dr. Birchard was Head of Small Animal Surgery at Ohio State from 1988 to 1994. While at Ohio State, he received the Norden Distinguished Teacher Award (1985), the Omega Tau Sigma Fraternity National Gamma Award for distinguished service to the veterinary profession (1994), the John Lyman Jr. Award for Clinical Teaching Excellence (2006), and the Excellence in Teaching Award (2008). Dr. Birchard left Ohio State in July, 2010 and is now doing part-time consulting in private practice and continuing education for practicing veterinarians.
Dr. Birchard's clinical specialty is small animal soft tissue surgery. His research interests are in oncologic surgery, general thoracic surgery, portosystemic shunts, and chylothorax. Dr. Birchard has written numerous articles for refereed journals and book chapters. He is the chief editor of the Saunders Manual of Small Animal Practice, co-edited by Dr. Robert Sherding. He recently started an educational blog for veterinarians called "Veterinary Key Points" (http://drstephenbirchard.blogspot.com).
Stephen J. Birchard DVM, MS
Diplomate, ACVS
Email: stephenbirchard@gmail.com
Phone: 614-448-7844
facebook: Dr. Stephen Birchard, Veterinary Continuing Education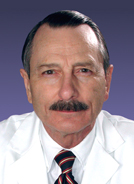 Dr. Ralph L. Brinster (Rutgers School of Agriculture, Class of 1953) was named one of seven recipients of the National Medal of Science by President Obama.

According to a September 27th White House press release, Dr. Brinster was honored for his fundamental contributions to the development and use of transgenic mice. His research has provided experimental foundations and inspiration for progress in germline genetic modification in a range of species, which has generated a revolution in biology, medicine, and agriculture.

The National Medal of Science is the highest honor bestowed by the U.S. government on scientists, and Dr. Brinster is the first veterinarian to receive this award. He is the Richard King Mellon Professor of Reproductive Physiology at the University of Pennsylvania School of Veterinary Medicine.

While at Rutgers, Ralph Brinster was an Alpha Zeta member, President of the Poultry Science Club, 4-H Club member, and Cadet Captain in the Air Force ROTC. We salute this Rutgers alumnus who grew up on a New Jersey farm and started his prestigious career on Cook Campus.
Reprinted from our Animal Science Update 2012 (Story at bottom of page 1)
Editor's note: Information about Dr. Ralph Brinster (for this Animal Science Update 2012 issue) was obtained courtesy of Special Collections and University Archives, Rutgers University Libraries.